Over the past few years, Spawning Tool has grown a ton. Thanks to tournaments organizers and casual players, we have accumulated over 30,000 StarCraft 2 replays with 13 million build steps and 400,000 tags. Although the site can generate interesting statistics and predictions from the data, it can be daunting for players to find strategies to actually use in-game. You have to dig through hundreds of replays and hope to find a good, clean build order. We wanted to make that easier, so we're releasing Spawning Tool Build Orders.
Build orders are the backbone of StarCraft strategy: everyone from new players to top professionals is looking for and creating build orders. Builds offer new, interesting ways to play and provide structure for the mechanical and tactical play that makes this game so much fun. Even so, there aren't many centralized resources for build orders active today, and we didn't want that void to be our legacy.
Spawning Tool Build Orders (also available for LotV at http://lotv.spawningtool.com/build/) lets you browse the newest or most popular build orders. Watch a walkthrough Find the builds for a matchup or to fit your playstyle, and filter down to the builds written up by our featured contributors.

The builds themselves are hand-written, so you don't have to worry about funny timings or mistakes from build orders extracted from replays. Read an explanation, watch the VOD, follow the build order, read the annotations, get the SALT encoding, discuss the build in the comments, find similar replays, and more to really get into the strategy. And be sure to vote so the best builds can filter up to the top.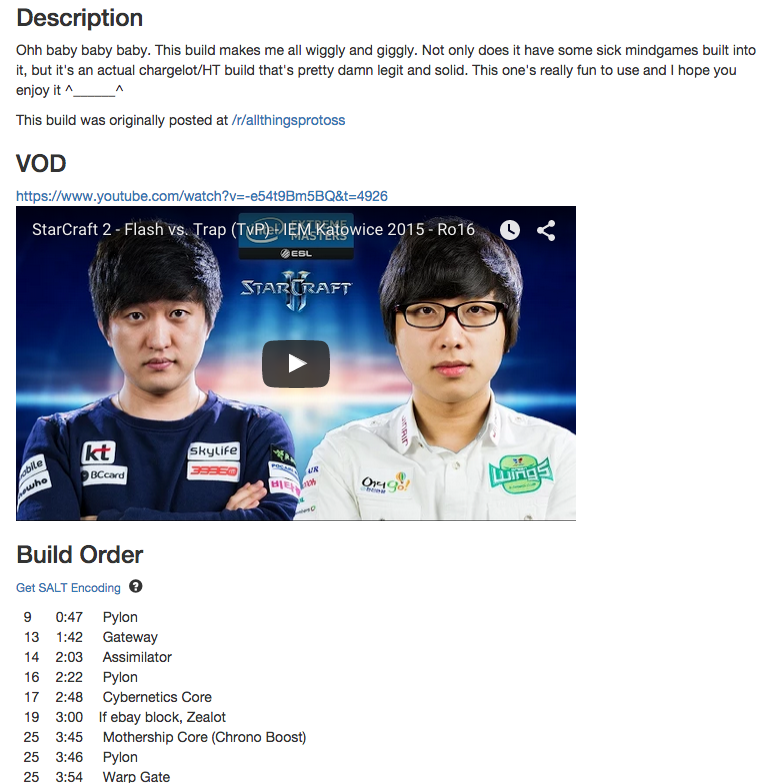 Build Orders depends on community contributions, so anyone can create and publish build orders. If you just want to use Build Orders as a personal notebook, that works. If you want to share a cool, new strategy and see it voted up by the community, that's also great. We hope that builds are easy to write with unit name autocomplete and drag-and-drop reordering. Also, builds are integrated into our existing replay database, so you can export any replay build order as a starting point.

If you do publish a build order, remember to set your twitter and twitch names athttp://spawningtool.com/accounts/preferences/ so other users can find and follow you after reading your build. Our Legacy of the Void Build Orders in particular could use more builds, and we would love to see lesser-known community members emerge as creators for their build orders. We will be watching to find more people we can mark as "Featured Contributors".

The Spawning Tool team is committed to making StarCraft data open and accessible to the community, and we believe that Build Orders continues that same philosophy. By creating this hub for build orders, players can learn from each other and raise the level of play and enjoyment for everyone. We also realize that our site exists solely from contributions from the community and want to highlight the effort from content creators in replays, VODs, casts, writeups, and more. We don't want to appropriate your work: we want to make accessible in a centralized, easy-to-use place so everyone can appreciate it, too.
Along those lines, we would love it if you could try out Spawning Tool Build Orders and let us know what you think. We hope that players come back to it for every ladder session and that content creators contribute more and more, but if that's not true, we definitely want to hear about it. Feel free to share any feedback you have on this feature with us via email (spawningtool@gmail.com), twitter (@spawningtool), or anywhere else you can find us, and we will do our best to improve the experience.
GLHF, and enjoy Legacy of the Void!
-The Spawning Tool Team
(This was originally posted on teamliquid.net)